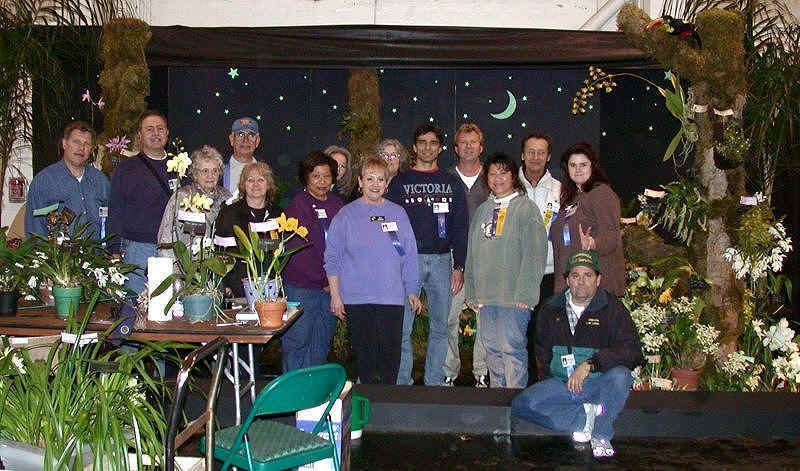 DVOS Sweeps San Francisco Orchid Show!
Message from the President
Well, we made it through another orchid show at Fort Mason. Unfortunately, this year "Captain Ron" was under the weather, but still came on set-up day to supervise. Parky Parkison, a new participant, took over assembling the exhibit with the help of the others. Our show group is like a pro football team. We are mostly all veterans except for a couple of "Rookies", Parky & Brenda. It was like playing the Orchid Show Super Bowl. Our veterans performed to their capacity and you could not tell who the rookies were.
Put that together and you win all the awards. And that's exactly what DVOS did. We received congratulations by the Paph House - Fred & Francisco, the Fordyce's, a lady from the Marin Society and a guy from Golden Gate Orchids. There were a few more congrats, but not sure who they were. It made me proud to be a member and President of Diablo View Orchid Society.
Thanks to Ron and the crew for a very successful year!
David Tomassini
DVOS Cleans Up at the S.F. Orchid Show!
What follows is a list of some of the awards the members of DVOS took home after the SF Orchid Exposition:
Awards won by DVOS:
FIRST PLACE - Best Exhibit by a Visiting Orchid Society
AOS BRONZE TROPHY - Most Outstanding Orchid Exhibit
BEST EXHIBIT ILLUSTRATING SHOW THEME
ORCHID DIGEST TROPHY - Best Display by a Non-Commercial Grower
The following individuals received special show ribbons:
Nancy Pak - Best Plant of Other Genus (Class 1) For: Rhy. giganten
Jeannette & Tom Bean - Best Dendrobium Shown by a Novice For: Den. Snow Magic Yukinko
Dan West - two ribbons for Cattleya amethystoglossa
Best Plant Shown by a Novice Exhibitor
Best Cattleya Alliance
David Tomassini - Best Oncidium Alliance Intermediate Exhibitor For: Milt. Augres 'Trinity' AM/RHS
David Tomassini - Best Paphiopedilum/Phragmipedium Shown by Intermediate Exhibitor for Paph. Insigne
Bob Van Galder - Best Oncidium Species submitted by a Novice Exhibitor for Oncidium splendidium
Bernice Lindner - Best Cattleya Alliance submitted by an Advanced Exhibitor for Blc. cantaloupe
---
Parky Parkison sent me the these pictures from setup to awards! Click on the pictures for a larger version.
---